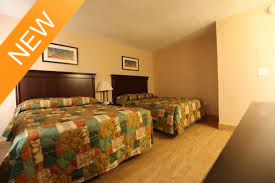 Welcome to the Inn On The Gulf. Discover a very relaxing Florida vacation style lodging in a tropical beach-front setting, with breathtaking sunset views and very comfortable efficiency suites that will turn your Florida beach vacation into an unforgettable experience.
The Inn On The Gulf – The Inn On The Gulf is a two-story 18 room hotel in Hudson Beach, Florida that is located just 40 miles North from Tampa International Airport. As a guest of the Inn On The Gulf you will enjoy breathtaking sunset views from the balcony of any one of our Gulf-side rooms or enjoy relaxing in the serenity over-looking beautiful Hudson Beach. Whether it is ocean-view or beach-front, you will quickly find that any of our available rooms will offer the same great Florida vacation feeling. From our tropical palm trees to our white sand beaches, the Inn On The Gulf has everything you need to make your next Florida vacation an experience you will never forget. So the next time you visit Florida be sure to make the Inn On The Gulf your final vacation destination.
Vacation Efficiency Suites – The Inn On the Gulf offers comfortable efficiency suite style lodging at an affordable price. The Inn On The Gulf has everything you need for an enjoyable stay, including a bedroom that is separate from the rest of the suite and consists of a double and a twin bed. The main living area of the suite offers a spacious living room, kitchen, and a dinette. The kitchen offers a large refrigerator, microwave, coffee pot, and toaster. Adjacent to the kitchen is the dinette with seating for up to four. The living room has a sofa that converts into a bed. Our rooms can sleep a maximum of five people. Flat screen TV's in bedroom and living room. Free WiFi. Free Local & Long Distance Calling.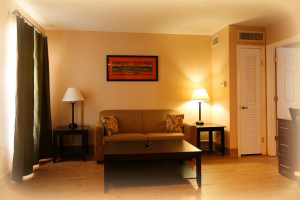 We do offer daily, weekly, and monthly rates. Please be advised that since we do only have 18 rooms, we recommend that you make your reservations in advance. Make an Online Reservation Inquiry or call us toll-free at 1-877-840-8321.