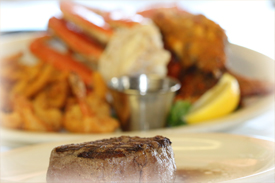 Welcome to the Inn On The Gulf of Hudson Beach, Florida. At the Inn On the Gulf we bring you one of the finest and freshest seafood dining experiences found in the Tampa Bay area. From our warm friendly hospitality to our famous fish & chips, from mouth watering aromas to breathtaking sunset views, whatever the occasion the Inn On the Gulf is an excellent choice in seafood restaurants. Dining at the Inn On The Gulf is an experience you will never forget. Our full lunch and dinner menu is served daily. Enjoy some of our famous grouper specialties while overlooking some of the finest water views in central Florida. Famous for our grouper fish & chips and grouper sandwiches, the Inn On The Gulf features a menu of fresh seafood, steaks, and pasta, as well as daily special. All menu items are prepared fresh to order and served by a friendly and professional wait-staff. The Inn On The Gulf is an experience not to be missed, and it will surely become one of your favorite place to dine. The Sunset Room Restaurant offers air-conditioned inside or dine alfresco on our large patio overlooking the Gulf of Mexico. "It just takes one taste and you'll be hooked!" Reservations are suggested for large parties.
"One of the finest waterfront restaurants on the Gulf of Mexico"
"The Grouper Creole is exquisite."
- Travel Host Magazine
The Inn on the Gulf has an extensive menu which is sure to satisfy everyone's tastes, from fish to filet mignon and of course a full liquor bar for your favorite tropical drinks from its full liquor bar. Our friendly staff await your next visit to Florida's only Inn On The Gulf.
The Inn On The Gulf Values our loyal patrons and continually looks for ways to improve your complete dining experience, such as: • Gift Cards – Purchase Online Gift Cards • Online Menu – View our Entrees Online • Customer Reward Program – Earn Gift Certificates